April 6 – 8, 2018
Call 662-687-2188 for tickets!
Dancing With The King™ 
Dancing With The King™ is an annual event that celebrates the legacy and music of Elvis Presley™. If you love Elvis™ and his music you won't want to miss this fun weekend!
If you are a dancer, you'll want to explore the pages devoted to our dance packages.
Elvis™ Fan Package
While Dancing With The King™ incorporates a lot for dancers, there is truly something for every kind of Elvis™ fan. This fun weekend includes many extras not available any other time of the year and is priced just right at only $99 per person.
Exclusive Tour
Come to Tupelo for the weekend and experience Elvis'™ Tupelo. This personal behind-the-scenes tour, designed by Tupelo's Elvis™ Historian Roy Turner, will include opportunities to hear from people who grew up with Elvis™ and will tell stories from his childhood. You will walk where Elvis™ walked. See what we mean in the video below:
Sock Hop Friday Night
Your package includes admission to the Friday sock hop party. You are invited to wear your favorite 50s or 60s gear. Enjoy an evening of Elvis™ tunes and even join in the dancing with fun options like the stroll.
Dancing With The King™ Amateur & Pro-Am Show Dance Competition
Admission to the Saturday afternoon Dancing With The King™ Amateur & Pro-Am Show Dance Competition where amateur ballroom dancers show off their skills with their amateur or professional partners. Each one will perform the routine they've  choreographed to their favorite Elvis™ tune!
Dancing With The King™ Gala & Professional Show Dance Competition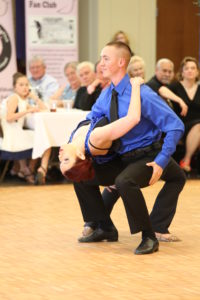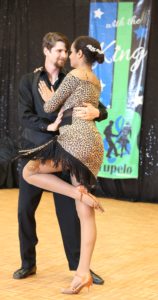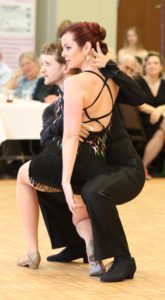 Admission to the Saturday evening Dancing With The King™ Dinner Dance Gala featuring the music of Elvis™ and a professional show dance competition where dancers will be demonstrating their moves to the Elvis™ song of their choice. With great scholarship prizes on the line, you can bet that you'll see their very best moves!!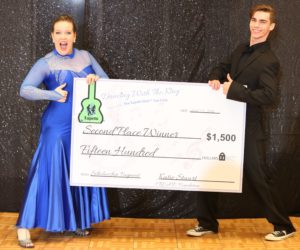 Sunday Ballroom Competition
You are welcome to observe the traditional ballroom dance competition on Sunday – just like you've seen in the movies!!
Package Rates – including everything listed above!
Just $99 per person for this great weekend of fun!
Registration
To register by mail, please download this Registration Form and mail it with your check to:
Dancing With The King™, 114 N. Spring St., Tupelo, MS  38804
Or call Charlise Latour at (662) 687-2188 to register by phone.
Elvis™, Elvis Presley™ and The King™ are trademarks of ABG EPE IP LLC. 
Rights of  Publicity and Persona Rights for Elvis Presley are used with 
permission of ABG EPEIP LLC. Photo © 2015 ABG EPE IP LLC.