Dancing With The King™ Welcomes Jim & Jenell Maranto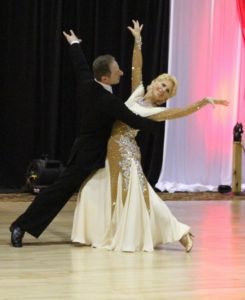 Jim & Jenell Maranto are always favorites at All Star Dance Camp. They are known for offering great instruction. We are thrilled that they have agreed to be part of Dancing With The King™.
Jenell started dancing at age 3. Over the years she has studied almost every form of dance. She was a champion gymnast in college and a professional chorus line dancer at Harrahs in Lake Tahoe. She then went on to head the dance department for Sierra Nevada College for over nine years. There she taught Jazz, ballet, and gymnastics.
Ballroom dancing is her favorite form of dance because of the variety. There is always something to learn and many different styles to choose from and enjoy. Jenell has been teaching Ballroom dance since 1980 and opened her own school, The Academy of Ballroom Dance in 1987.  At that time she set her goals high and began seriously training for dance competition.
Jenell is a Fellow of the Imperial Society Ballroom Branch and has trained a number of U.S.    Pro-Am and Amateur Champions. She is an examiner for DVIDA and a teacher of teachers. She is a winner of the prestigious Feather Award for the best female teacher in the United States. She is a teacher who teaches from her heart and can back it up with a clear understanding and knowledge of the technique and physics of ballroom dancing. She is also known for her creative and inspirational choreography. A professional dancer and teacher for over 25 years, Jenell knows how to handle students with care and understanding that will get results.
Jim started ballroom dancing as a hobby while working as a stockbroker. With his highly competitive spirit he won the U.S National Pro/Am Championships. In 1987 he became a professional Ballroom Dancer and together with his dance partner, Jenell, opened the Academy of Ballroom Dance in Phoenix.
Over the past 20 years Jim has trained many Pro/Am Champions.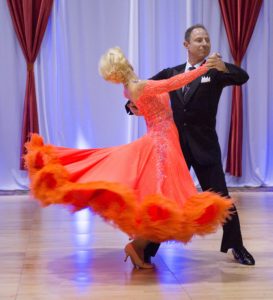 He has won numerous top teacher awards and his students consistently finish in the top three in the U.S. As a teacher Jim is one of the best communicators of technique and theory in the business. He has an intense love of his work and displays a natural enthusiasm that is contagious. Jim is a licentiate of the Imperial Society Ballroom Branch. He currently travels extensively to compete with his students, to coach, lecture and judge competitions.
Together they trained with the top coaches in the world. With many lessons and a lot of practice, they won every major Open Professional Smooth competition in the United States and also won every Professional Rising Star International Standard competition in the United States. Ultimately the highlight of their career was winning two U.S. American Smooth Championships in 1993 and 1994. They have represented the United States in two World Showdance events and many competitions throughout Europe, Asia, and North America.
Jim & Jenell are co-authors of the American Smooth Syllabus for DVIDIA.
During the Dancing With The King™ Weekend, Jim & Jenell will be offering private lessons on a first come, first served basis. We recommend scheduling your private lessons early to ensure you get a spot.Click here for details.
Elvis™, Elvis Presley™ and The King™ are trademarks of ABG EPE IP LLC. 
Rights of  Publicity and Persona Rights for Elvis Presley are used with 
permission of ABG EPEIP LLC. Photo © 2015 ABG EPE IP LLC.